Geoff Norcott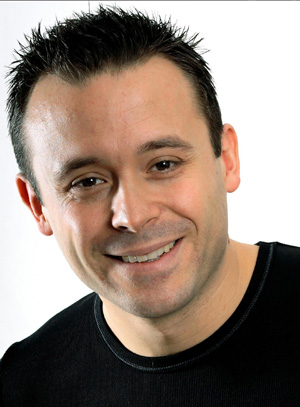 "This guy is going to be big" The Stage
Geoff Norcott has made a real impact on the national comedy circuit since he first took to the stage in September 2001. His abundance of energy combined with a storming mix of impressions, observations, satire and rap, make him a versatile and original performer. Geoff is equally at home as compere or act and wants everyone to have a good time, which is immediately apparent as soon as he takes the mic. Last summer Geoff starred in SHOP IDOL, a short film for Jimmy Razor Productions and plans to do more work in front of the camera soon.
Geoff was recently seen in a new series for BBC 2 called "My Appalling School Report" - about celebrities going back through their old school reports. Geoff, an ex-teacher and now full time comedian, was the perfect choice for the job - having himself written many school reports. Geoff is also a gifted writer and is currently developing ideas for radio and animation, and is writing for MTV.
Geoff has recently completed filming an interview for Edge Publication's 'British Comedy of the 1960's' DVD, discussing the cultural significance of Monty Python. In late 2005 he also appeared on 'Now That's Embarrassing....80's' on Channel 5, offering his own comedic spin on the decade, and has most recently appeared on 'Teachers' TV' offering tongue-in-cheek advice on crowd control to new teachers.
Geoff will also be performing his first ever hour-long Edinburgh show in 2010, which should hold particular appeal for anyone who is, or has survived, being a teenager - as he analyses the awkward history of being aged 13-19 on a personal and historical level.
Television & Radio
My Appalling School Report – BBC2 (March 2010)
Teachers' TV - Feb 2010
Five o'clock show with Richard Hammond - ITV1. Jan '06
British Comedy of the 1960's DVD - Monty Python Interview - Edge Publications
Now That's Embarrassing....80's - Channel 5 - 2005
Upcoming: Jono Coleman Show, LBC 25th Sept 2005
Before They Were Mingers, Sky, Feb 2005
After They Were Mingers, Sky, Feb 2005
Weapons of Mass Distraction, ITV1
Dan and Dusty, ITV1 - 2 episodes
Jamz, Channel Nation 217
BBC Radio 5 live, – various specials
TV Warm-Up
'Celebrity Fame Academy' BBC, 2005
Film
Shop Idol, lead character Jimmy Razor Productions
Reviews
" Norcott is an outstanding act who delivers an eclectic mix of smut, impressions and politics all delivered with a confident smile and boundless energy that keeps you on your toes. All wrapped up with faultless delivery, affability and a t-shirt two sizes too small. Who could ask for anything more? " Funny.co.uk
"The first comedian of rap" Craig Charles
"Devastatingly accurate parody of the rap scene…" chortle
"FAST-talking London gagster Geoff Norcott's party piece is his rapping parody, which is guaranteed to bring the house down at any comedy gig." Manchester Evening News
'Geoff Norcott, who had forced his rippling torso into a black T-shirt with "Jesus is my homeboy" written across the front, was bursting with energy and model looks. Despite his confusing attire, we were hooked...the ex-teacher was a consummate mimic, morphing by turns into Donkey from Shrek and rapper Dizzee Rascal.' Huddersfield Examiner
"The gig then picked up pace with Geoff Norcott, who raised the bar with a welcome injection of bravado and confidence. A mixture of rap, satire and impressions was well delivered and funny, and — despite a mobile phone ringing and being answered (yes, from that same table at the front) — his energetic act breathed life into this Sunday night crowd". Aldershot News
Comedy Clubs include:
North
The Buzz Club, Manchester.
Frog & Bucket, Manchester.
The Other Side, York.
Alexander's, Chester.
Cornerhouse, Newcastle.
Hyena Cafe
Funny Bones Venues
Hi Fi Club
Middle
Glee Club, Birmingham.
Cheeky Monkey, Birmingham.
Ship Of Fools, Leicester.
Glee Club, Cardiff.
Hen & Chicken, Bristol.
Jesters, Bristol.
Red Card Norwich
Cambridge Comedy Festival
London/South
Comedy Store.
Banana Cabaret.
Big Night Out, Soho.
Comedy Café.
Chuckle Club.
Downstairs at the King's Head.
Komedia.
Up The Creek Maidstone & Croydon
Twisters Bournemouth
Jongleurs Camden & Battersea
Screaming Blue Murder venues
City Limits
Universities
North London.
East London.
Reading.
Bournemouth.
Southampton.
Buckinghamshire.
Portsmouth
Chester
Teesside
Aberystwyth
Huddersfield,
Royal Holloway
York
Scarborough
Anglia
Abroad
One Night Stand - Singapore - 2010
Galway
Paris
Bahrain
Jersey