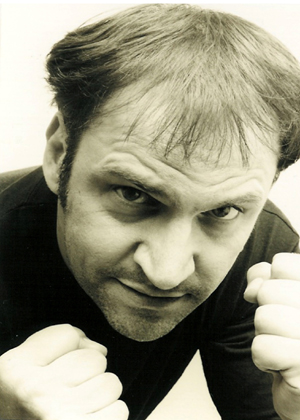 "Geoff Whiting takes the stage with consummate ease and works the audience like a miner at the coal face, digging out nuggets of information to fuel his comedy." - Independent on Sunday, August 2010
Geoff Whiting is an established and popular compere, as well as a strong and versatile act. He has appeared at the Edinburgh Festival, on television and radio and at every notable comedy club in the UK. He is also an established TV warm up.
Comedy Clubs & Appearances-London
The Comedy Store, The Comedy Café, Jongleurs, Bound and Gagged, Up the Creek, Meccano, Red Rose Comedy Club, Screaming Blue Murder, The Bearcat, Downstairs at the Kings Head and the Banana Balham
UK & Others
Jongleurs (Manchester, Oxford, Watford, Southampton, Birmingham, Portsmouth, Edinburgh and Bristol), The Krater Comedy Club (Brighton), Rawhide (Liverpool), Just the Tonic (Nottingham), The Comedy Box (Bristol), The Comedy Club (Chelmsford), The Cheeky Monkey Comedy Club (Birmingham) and St John's College Summer Ball (Cambridge University). The Comedy Café (Amsterdam), The Bowler (Paris), GPO (Galway, Ireland) and City Limits (Cork)

Corporate
The MacUser Awards 2010, BUPA (Brighton) 2010, Birmingham Chamber of Commerce 2010, DHL Conference (Brussels) 2010, Unilever 2005, Yell Ltd 2005, The DMA Annual Award Luncheon 2005, Beaconsfield Round Table 2005, Vibrant 2005, The Labour Conference Party 2004, O2 Awards 2004, The Bath Ball 2004, CIS Insurance Awards 2003, Unipart Conference 2003, Bath Rugby Club Annual Dinner 2002, Tescos 2002, Toyota 2002, Thomas Cook 2002, RAF Uxbridge 2002 and the Federation of Small Businesses UK 2001.

TV Warm Up
Deal or No Deal, with Noel Edmonds, Channel 4, 2010
Street Cred Sudoku, UKTV, 2010
The Wire (pilot) ITV, Aug 2005
Friday Night Hero (pilot) Ch4, Aug 2005
Balls of Steel, Channel 4, July 2005
Bamboozle, E4, July 2005
'The Big Call ' ITV1 2005
'What's the Problem' with Anne Robinson BBC 1 2005
'Celebrity Fame Academy' BBC, 2005
Come and Have a Go If You Think You're Smart Enough-BBC1 2004
Shooting Stars, BBC 2003
Dom Jolly BBC 2003
Trick Saturday, BBC 2002
Take the Mic, ITV Network 2001 & 2002

TV Appearances
How to Get Your Dream Job, BBC 3 2010
The Interview, BBC 3 autumn 2005
Young Gifted & Broke, ITV Network 2001 (as the professional comedian advising newcomers)
The Pleasure Guide, HTV 2001
Net. COMEDY, Carlton World 2001
House of Fun, Meridian Television 2001

Radio
Fighting Talk – BBC Radio 5 2010
The Sunday Show – Talksport 2010
Comedy Cabaret – LBC Radio 2010
Regular Comedy Slot on Bristol Uncovered, Star FM 2001- 2004
Saturday Night, LBC Radio 2003
Comedy Hour with the Morning Crew, GWR FM Wiltshire 2001
Guest appearances on BBC Radio York, BBC Radio Kent, BBC Radio Solent, BBC Radio Three Counties, BBC Radio Devon, BBC Radio Gloucestershire

Edinburgh Fringe
Get Up Stand Up, at the Three Tuns 2010
The Phat Cave, Gilded Balloon Teviot 2005
The Midnight Show, The Gilded Balloon 2001/2003
Late 'n' Live 2001

Critics Response
"Geoff Whiting takes the stage with consummate ease and works the audience like a miner at the coal face, digging out nuggets of information to fuel his comedy." - Independent on Sunday, August 2010
"Geoff Whiting was the perfect compere. His lack of ego, his audience technique, and, of course, some great material, were a perfect warm-up for the main-billed acts." Funny.co.uk
"...a master of the 'That's so True' type of humour. He ad-libbed brilliantly and hooked the audience." Evening Standard
"...wonderfully confident, highly entertaining..." Scene Magazine Bristol

'' skilful stand-up '' Time Out Magazine