Zoe Lyons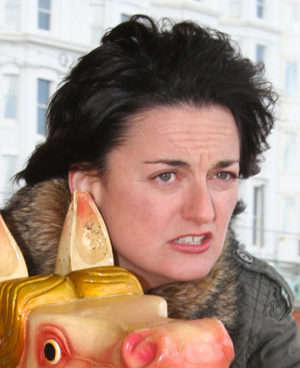 WINNER-THE BABYCHAM FUNNY WOMEN COMEDY AWARD 2004
FINALIST - SO YOU THINK YOU'RE FUNNY 2004
'the best new comic I've seen for a long time' -Time Out
Zoe created a huge buzz on the comedy circuit in 2004 when she won the 'Babycham Funny Women Award 2004' and reached the finals of 'Channel 4's So You Think You're Funny Award' in the same year. As a result she has become a highly sought after act on both the national and international circuit.
"Considering her fairly recent appearance on the stand-up circuit her confidence and crowd control was astonishing." - Virtual Brighton Magazine -Theatre & Comedy
Zoe takes a sideways view of life, picking out the many absurdities and turning them into hilarious routines which she delivers with tremendous energy, drawing on her acting skills to provide a kaleidoscope of voices and faces throughout the act.
"Her routine was a fireproof parade of quick fire observational gags delivered with utter conviction and unfailing professionalism. The audience didn't really have a chance". Chortle
After completing a degree in Psychology at York University, Zoe discovered her love of performing. She trained as an actress at The Poor School in London and later appeared in several shows, including 'Eclipsed' at the Riverside Studios and the highly acclaimed 'Shut Up I'm Your Mother' at The Edinburgh Festival 2002.
Zoe is an extremely versatile performer. Her works spans corporate training, radio acting, live TV presenting, and stage sketch shows. She also demonstrated to the nation her ability to laugh in the face of adversity, as a contestant on ITV's 'Survivor!' where she ate a rat and lived to tell the tale.
In August 2005 she appeared in two shows at the Edinburgh Fringe - a sketch show with Perrier nominee Hal Cruttenden called 'Monkey Butler' which received rave reviews and a stand-up show with fellow comedienne Ayesha Hazarika called "Two Girls Walk Into A Bar".
She will be appearing in Edinburgh at "AAA" in the Pleasance Courtyard in 2010.
Zoe has been a regular guest on the 'Sandi Toksvig Show', LBC and recently guested on 'The Richard Mackney Show' also on LBC. She most recently appeared on 'Now That's Embarrassing....80's' on Channel 5, offering her bespoke cultural perspective.
"confident, razor sharp Lyons ......" Observer Magazine
TV Credits Include:
Now That's Embarrassing....80's' - Ch 5 - 2005
Street Cred Suduko - Sky TV (pilot) 2005
The Golden Rules Of Comedy, Sky TV
Dan & Dusty TV, ITV1
Weapons of Mass Distraction ITV 1
Roving comedian, Laugh Out Loud pilot for BBC3, Zeal TV
Hollywood correspondent, Breakfast pilot for Channel 4, Planet 24
ITV Survivor 2001,
Radio Credits Include:
Richard Mackney Show - LBC - 2005
Sandi Toksvig Show - LBC (regular guest) 2004/2005
Caroline Feraday Show - LBC (regular guest)
BBC, Southern Counties
BBC, Radio 4, Six Geese A' Laying
Festivals
(Upcoming) Edinburgh Fringe Festival 2010 - AAA at the Pleasance Courtyard.
Edinburgh Fringe Festival 2004 - Funny Women at the Fringe
Leicester Comedy Festival 2004
Edinburgh Fringe Festival 2002 - Shut Up You're Mother
Competitions
Winner of the Babycham Funny Women Award 2004
Finalist in C4's and the Gilded Balloon's 'So You Think You're Funny' 2004.
Theatre Credits Include:
The Riverside Studios, Eclipsed
Workhouse Theatre, Hedda Gabler/Aristocrats/Rafts and Dreams/King John/Breeze Block Park
Gilded Balloon, Shut Up I'm Your Mother
Soho Theatre, Comedy Rep
Canal Cafe Theatre, News Review