Computerised Betting System
New!! - The Easy Tote System - No more worries about the tote - More Details - New!!
We at Racenight.me.uk know how worrying it can be for our clients who have never run a race night before to organise the tote system so we have developed our exclusive excel spreadsheet that will take away all of that pain.
It's so easy to use and provides the following benefits
Instant odds calculations
Press button bet entry
Rounds up to the nearest 10p for pay outs
Provides upto the minute earnings position
And Its Free!!!!
You can download this exclusive tote calculator here
To run this system you will need a laptop or desktop computer that has Microsoft excel 2002.
.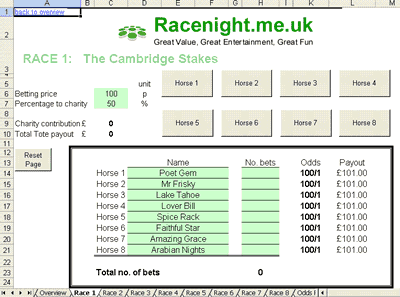 Please remember to stay within UK legislation you can only display any odds after the tote has been closed.